I didn't think much of things like toe nail clippers for most of my life, but really it's one of those small things where there is a huge difference between the good ones and the average or mediocre choices. It turns out I'm from a family where drinking milk not only makes for strong bones, but giant toe nails that can rip open socks, shoes, mattress covers, or skin off the calves to unfortunate cuddling partners.
Oops.
Aside from the fact that some of us just find toe nail clippers easier to use on fingernails than the smaller ones, as well, especially as we lose some finger dexterity to old age and various work injuries over the years, if you have really tough toe nails like I do they can become a nuisance. They rip through socks, cause all kinds of foot health issues with ingrown nails or foot damage if you tend to walk/hike 5-15 miles a day (as I do), and just don't look good.
Keeping them in good shape is hard if your toe nail clippers literally break apart into pieces (happened to me twice, one from a junk dropshipped brand one from a surprisingly well-known premium beauty brand) and STILL don't cut the nail…well then you've come to the right place.
Not many people have bought 6 different pairs of toe nail clippers to test them out. But I'm not most people.
And in my extensive testing the best toe nail clippers for tough toe nails by far are Mr. Green Toe Nail Clippers.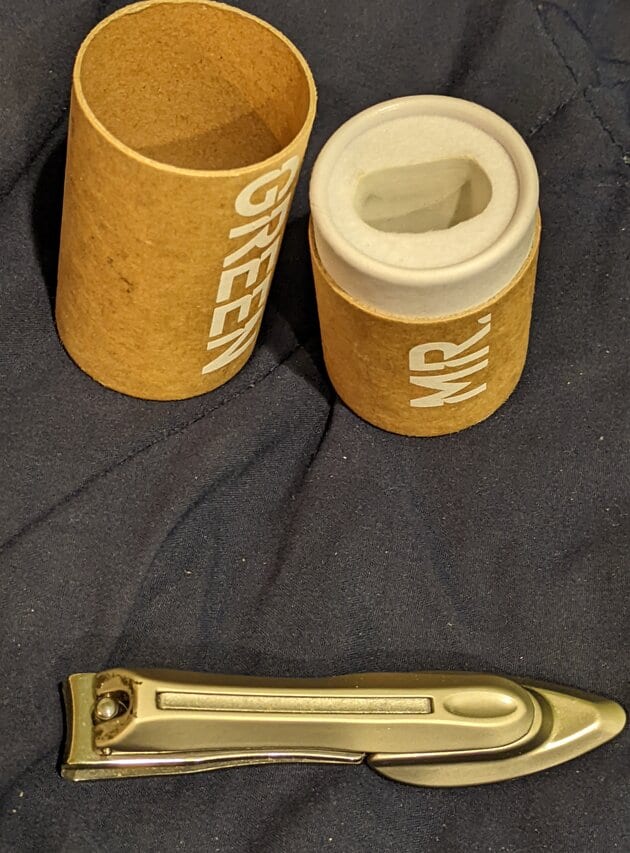 The Best Toe Nail Clippers: Mr. Green Toe Nail Clippers
I'm going into a full review of why these nail clippers are the best I've ever experienced by far, but if you just want the TL;DR answer, Mr. Green Toe Nail Clippers are the best and you can buy a pair from Amazon to support this page.
Check current pricing on Mr. Green Toe Nail Clippers here on Amazon.com
For the rest of you who want to know why I'm confident in straight out declaring these toenail clippers the best, read on and you'll get the full review on these as well as some of the others that just didn't measure up.
Why are Mr. Green Toe Nail Clippers So Good?
Easy to grip and use
Very strong materials, very clean cuts
Nice minimalist design that focuses on functionality
Cuts through big/tough toenails easily
You can tell just from holding them the quality of materials and construction that these are extraordinary clippers
Excellent container that makes them easy to store or pack for travel
Style points for appearance of both the container and the clippers
Budget-friendly pricing
My personal experience using these clippers has been exceptional. To the point where I don't envision myself ever buying from another brand unless I have a really good reason. I'll share some of the things I personally noticed that really stood out to me in a good way.
Easy Grip and Use (Especially for Big Hands)
This was big. My finger dexterity is not what it used to be, and I have very large hands. So being able to hold toe nail clippers and not worry about them suddenly slipping (especially during a cut).
Whether my fingers were dry, wet, stiff, or whatever, I've never had a problem actually holding the Mr. Green Toenail clippers. You can tell when you hold them that they are designed to be easy to hold and to not slip, which I'm appreciative of.
The texture, feel, and design of the grip are the best I've found, which is exactly what you want from tools that are going to be put to use in a bathroom setting.
Cuts Through Seriously Tough Toenails
I haven't just had toenail clippers explode into pieces in my hand before (Thanks, Revlon) but I've had them simply unable to cut through the nail. Especially when making a larger cut versus a "right on the edge" trim. And if you have big toenails that grow fast, you don't have the time to do ten cuts on the left, ten cuts on the right, ten cuts center to get it down to "okay."
If these will work on my toenails, it's all but a guarantee they'll work on yours. These are the same ones I sent to my Dad, and he raved about how well they worked. So you know where in the family I get my giant nails from.
Stylish Easy Store Containers
It's easy to lose conventional toenail clippers when traveling, because who is really going to keep basic box packaging? In this case, you would. Whether it's an individual holder (mine is pictured below), or the folding case for a set of three, these are really well designed and work perfectly for travel or for keeping them out of the way but within easy reach in any bathroom.
It's a winning combo in any case.
No Frills
There is no nail file with these clippers, but I actually like that. Instead of potentially compromising design for a little beauty add-on these toenail clippers are designed for *gasp* clipping toenails. Effectively and efficiently.
So needless to say, based on my personal experiences, and those of others I've recommended these clippers to, we're all huge fans.
They work, they work under tough circumstances, and they work on the toughest of nails.
Searching for the Perfect Toe Nail Clippers
While I fully get how toe nail clippers can seem like an odd thing to do tests on, after having the Revlon ones explode in my hand, and that untrimmed toenail shredding socks all week, I knew I needed some top notch clippers because my toe nails have ripped up socks, shredded open a mattress cover, and even cut a partner's calf after cuddling.
That's a good way to make sure you're not getting a second overnight visit.
Unfortunately, that's also something learned from experience. Considering that these "premium" toe nail clippers are only a few bucks more than the cheap ones from the store that sometimes fall apart after one or two uses, that is an investment that is well worth it.
While several other clippers I tested did very well, and some failed miserably (Revlon), at the end of the day the combination of comfort and effectiveness made Mr. Green the best premium toenail clippers I could find.
And that was before the superior packaging and storing options would have put them over the top in the event of a tie anyway.
Verdict: The Best Quality Toe Nail Clippers Money Can Buy
I've tested about a half dozen toe nail clippers with the specific intention of finding the best ones for big, hard to cut toe nails. The type of toe nails that can rip apart socks and bust poorly made clippers with ease. There are just certain things that you don't want to skimp on, and at least for me a good set of clippers is one of those things.
After three years of outstanding service, I'm hoping that I'll never need to buy another pair. For someone who used to go through about 10 pairs of socks every month (no joke – my annual sock bills were f'ing ridiculous before the combination of Darn Tough Socks and Mr. Green Toenail Clippers), that is a really big deal.
This is another one of those relatively small purchases that can give huge savings over the long-term, gives an upgrade to quality of life, and is a small investment to make your bathroom and personal care tools that much better.
Those are several great reasons why I can't recommend Mr. Green Toenail clippers enough. They are simply the best clippers on the market.